The right preparation for a wintery stay
Are you sleeping underneath the glass roof or in the open air? A wintery stay challenges you to experience winter in a new way. Especially in wintertime, a stay in ANNA offers a magical experience. Provided that you take good care of your body to stay warm. Start your adventure well-prepared with the following tips.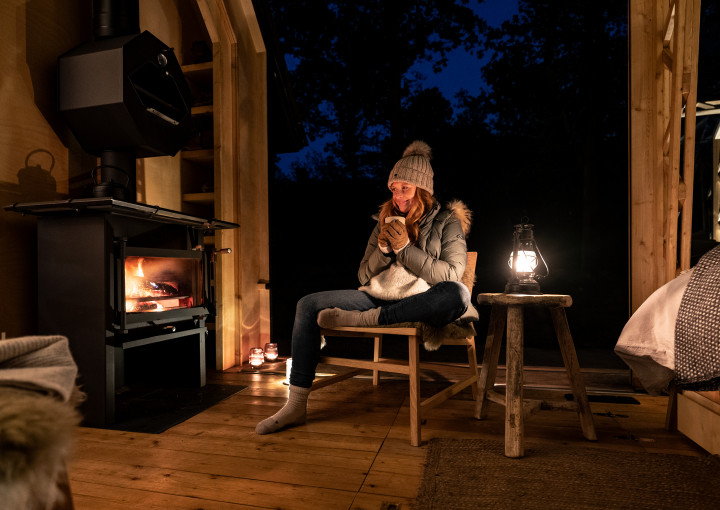 Warm on top
A good beanie is crucial. It should protect not only the head, but also the ears and neck. Also bring a good pair of gloves if it gets really cold.
Woollen socks
Wool is by far the best material when it comes to finding warm socks, because it keeps your feet warm even when your socks are damp. Warm feet are crucial for a warm physical condition.
Bigger shoes
Bring shoes that are slightly bigger than you would normally wear, so you can fit extra socks and/or insoles in them. This will keep your feet warm for longer. Keeping your feet warm is extremely important for keeping your body warm. You can lose a lot of body heat through your feet.
Sleeping
For spending the night in ANNA we recommend wearing thermal underwear, warm socks, and a beanie. Just to be safe, it's advisable to bring an extra fleece jacket or something similar. It's important to wear many layers that allow a good ventilation of body heat, materials that breathe and avoid perspiration.
Protection against the wind
The purpose of the jacket is to provide protection from wind and rain in combination with the outer layers. The material should breathe and allow freedom of movement, for example Gore-Tex. An extra down jacket or a thick fleece or wool jumper works as an effective extra garment to stay warm in.
Moisture transport
The layer closest to the body should wick away moisture. Choose wool or a wool blend. Fleece, preferably windproof, is an excellent intermediate layer.