Which ANNA will you choose?
Holenberg is the first location in the world where you can spend the night in ANNA. In the very first design, ANNA Origin, and in four new(er) ANNAs: Quercus, Cytisus, Ulex and Molinia. All located at unique locations in the Holenberg forest, with plenty of peace and privacy.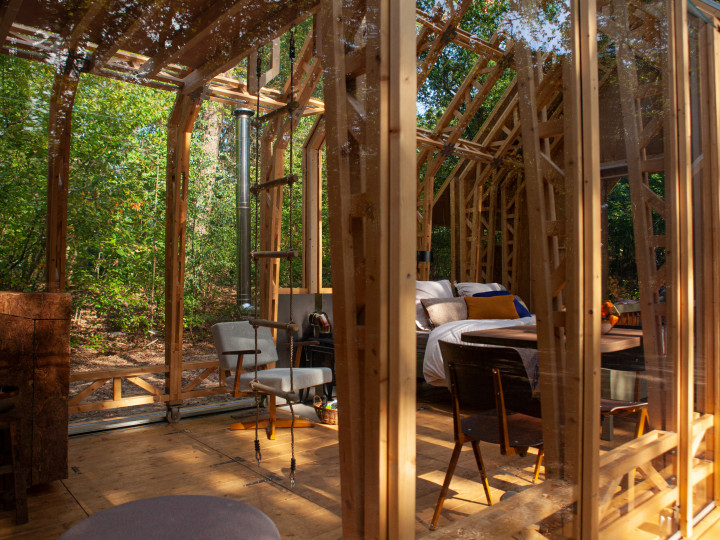 ANNA Origin
ANNA Origin is the prototype of ANNA and located behind a large drifting dune that runs through the forest. Here's where the story of ANNA started. Designer Caspar Schols built this cabin as a second experiment (after the first one that he built for his mother) in his search for the perfect cabin in connection with nature. The 'primitive' experience of ANNA Origin has an authentic charm that makes an overnight stay extra special. ANNA Origin has a spacious bath in the floor and is equipped with a simple yet complete and movable kitchen unit. The toilet and shower are located outside in separate units next to the cabin.
ANNA Origin is meant for:
Maximum of 2 people
Maximum of 2 dogs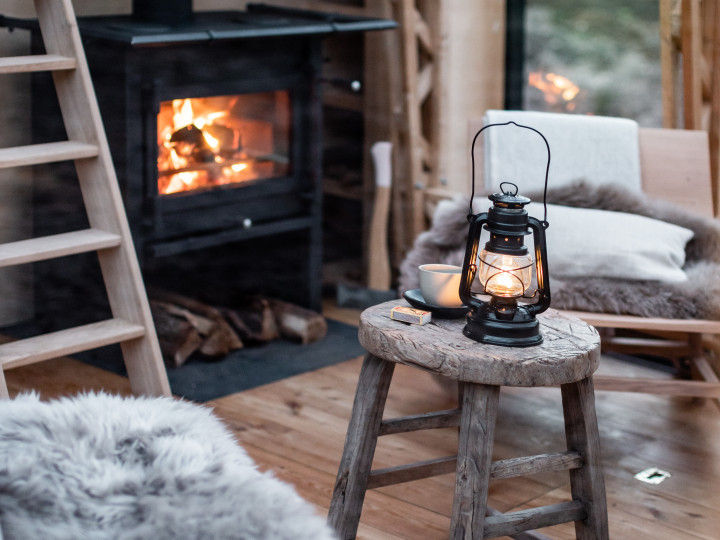 ANNA Quercus, Cytisus, Ulex en Molinia
These four other ANNAs in Holenberg are second generation ANNAs. With just a little more comfort than Origin. For example, the shower and toilet are located inside the cabin and there is a fixed kitchen. In addition, you will find an extra sleeping place for two children (up to 18 years) in the ridge of the cabin. Of course, these ANNAs also have a wood stove and a bath, hidden under the ground. In terms of design and layout, these four ANNAs are identical. Yet there are two important differences. Quercus is pet free. Unlike Ulex and Molinia where your four-legged friend is welcome (maximum two). Other arrival and departure days also apply. You can find this in the reservation tool at the bottom of this page. ANNA Cytisus is the closest to the campsite and its facilities such as a swimming pond and a playing field. As a guest of Holenberg you can also use this. Nevertheless, it is good to take into account the fact that during the camping season in this ANNA you can experience a bit more 'noise' from the campsite than elsewhere in the Holenberg forest.
ANNA Quercus is meant for:
Maximum of 2 adults and 2 children
Pet free
ANNA Ulex, Cytisus and Molinia are meant for:
Maximum of 2 adults and 2 children
Maximum of 2 dogs
Rates
ANNA
Origin

ANNA
Ulex

ANNA
Molinia

ANNA
Quercus

ANNA
Cytisus

Rate per night weekday (su to th)
€ 237
€ 287
€ 287
€ 287
€ 287
Rate per night weekend (fr and sa)
€ 297
€ 347
€ 347
€ 347
€ 347
Rate per night school holidays
€ 297
€ 347
€ 347
€ 347
€ 347
We work with fixed arrival- and departure days. The minimum stay in all ANNAs is two nights (weekdays) or three nights (weekends). Therfore it's not possible to book a separate overnight stay.
Prices include breakfast and exclude cleaning costs (€ 45 per booking), municipal levies (€ 1.50 p.p.p.n.) and reservation costs (€ 5 per booking). The general terms and conditions apply. Bed linen and kitchen- and bath linen are provided.
Any questions?
Do you have questions about making a reservation? Then take a look at the frequently asked questions. Your answer may already be here. Of course you can always contact us. We're happy to help you.